Metalfest in Pilsen is has become a highly respected metal tradition. The fans came to favour the festival not only for its great musical dramaturgy of many genres of metal but also for its unique natural environment in which it takes place. The beautiful amphitheatre in Lochotín, where you can see from any place beautifully on the podium, surrounded by a park and meadows, adjacent to the Pilsen ZOO, all just a short walk from the centre of the West Bohemian metropolis of Pilsen. Three days full of the best metal music and fun, that's Metalfest!
ABOUT FESTIVAL
venue: Lochotin Amphitheater, Pod Vinicemi 9, Pilsen [49.759526, 13.361107]
date: 03.06.-06.06.2021
GUIDELINES FOR FESTIVAL VISITORS
No money refund is possible once the ticket is paid, it is not possible to exchange the ticket on site. Only three-day passes are available.
Organizers take no responsibility for any health / personal belongings damages caused during the festival.
Children older than 3 need their own ticket.
Children under 12 years of age are allowed into the area only when accompanied by an adult.
It is strictly forbidden to bring drinks, plastic bottles, glass bottles, cans, as well as any weapons, knives, scissors, flag poles, umbrelas and other things classified by staff as dangerous! The organizer reserves the right to personal security check in a manner permissible by law - at any time! A person refusing to consent to such check will be refused entry or escorted out.
It is strictly forbidden to bring tape recorders or video cameras to the area! Violation of this rule could be classified as a crime!
Taking photos is allowed only on compact cameras without additional lenses. Only accredited photographers and journalists are allowed to bring professional cameras onto the premises!
Organizer and artists reserve the right to film, video and TV recording of concert shows and festival atmosphere. Visitor recorded for the document may also be published without further notice with no financial compensation.
Ticket forgery is illegal and punished according to the law!
Ticket = wristband. With it, you can leave and re-enter the festival area at any anytime. Once you take it off or lose it, you will not be able to re-enter the festival site! All persons without a wristband on hand will be immediately taken out!
The accommodation is FREE during the festival in designated camping areas.
The only currency accepted in the festival area is CZK. Exchange is available at the cash desk by the festival entrance, only EUR - CZK, not the other way around!
The beer is tapped into reusable cups with eyelet for attachment. A refundable deposit is 50 CZK. Cups are exchanged within the purchase of another beer or could be returned at two buyout marked points. Note - in addition to cups with brewery logo there is also limited edition of Metalfest promotional cups. Those are souvenirs and are not intended for a buy-out. Before you purchase your beer, please decide from which cup you want to enjoy it. Promotional cups with Masters of Rock/Metalfest signs will be also available in the festival shop. But for hygiene reasons you don't receive beer into this cups which you bought in the festival shop.
No dogs or other animals are allowed in the festival area!
Checkout - exchange EUR-CZK - accreditation
31.05. 10:00 - 23:00
01.06. 09:00 - 22:00
02.06. 09:00 - 22:00
Ticket exchanges for identification bracelets
30.05. 10:00 - 23:00
31.06. 08:30 - 23:00
01.06. 08:30 - 23:00
02.06. 09:00 - 22:00
Festival shop
31.05. 10:00 - 23:00
01.06. 09:00 - 23:00
02.06. 09:00 - 23:00
Luggage storage
31.05. 10:00 - 24:00
01.06. 09:00 - 24:00
02.06. 09:00 - 23:30
* pick up all your things till 02.06.2019 23:30
Showers
31.05. 10:00 - 02:00
01.06. 07:00 - 02:00
02.06. 07:00 - 23:00
WC
31.05. 11:00 - 23:30
01.06. 10:00 - 23:30
02.06. 10:00 - 23:30
* closed for cleaning (for about 20 minutes: 14:00, 17:00, 18:30 and 20:30
Beer cups buy-out
31.05. 11:00 - 23:30
01.06. 10:00 - 23:30
02.06. 10:00 - 23:30
ATM
from 31.05. - 12:00 until 03.06. - 24:00
Camping
from 30.05. - 13:00 until 03.06. - 10:00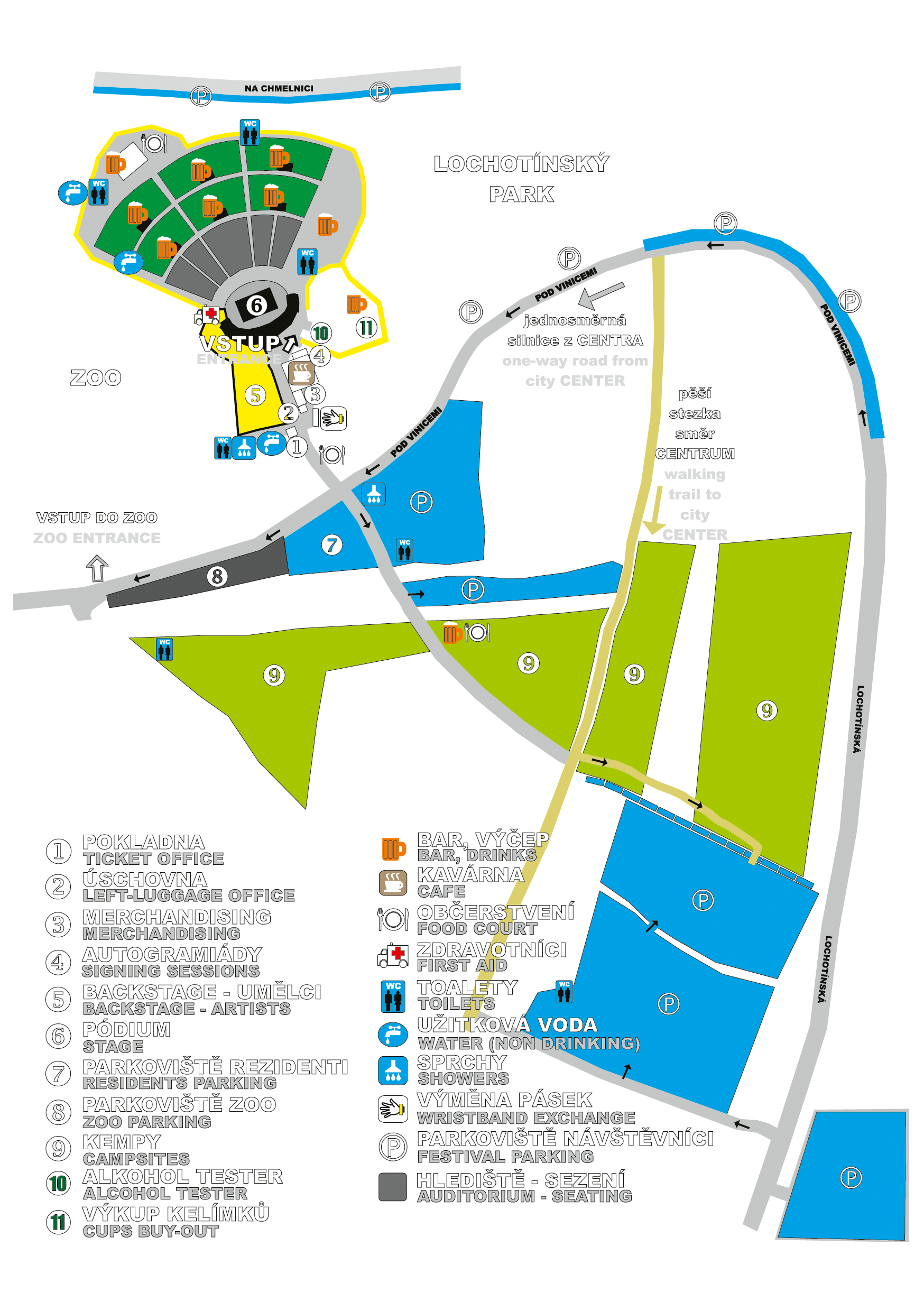 Festival camp
The camping is provided on meadows in front of the amphitheatre and it's Free for the festival visitors. Vehicle parking is allowed on a meadow adjacent to the parts. All free of charge. Entrance to the showers is paid. The tent city will be open from 31.05. - 13:00 until 03.06. - 10:00
Autocamp Ostende Bolevak
The auto camp is situated in a quiet area right on the shore of the Great Pond in Bolevec, near the amphitheatre that which can be reached by car, public transport and also on foot. Every Metalfest participant (ID'd with the ticket or the festival brand) gets a 10% discount on accommodation.

Autocamp offers:

accommodation in bungalows
space for caravans and motorhomes incl. electrical connections
grass areas for camping
parking in the enclosed camp area
morning breakfast bistro
possibility to arrange a hot breakfast in the local restaurant
all-day operation of the restaurant offering hot and cold dishes
multipurpose playground for volleyball, football and other ball games
sitting on several fireplaces
in the case of summer weather and swimming in Bolevák with access to the water from the sandy beach
More information, price list and a rich photo gallery can be found on Bolevak.eu, for reservation call 00420 739 604 603.
Hotel Panorama ****
comfortable accommodation in one of the most beautiful locations in Pilsen, near Košutecký lake
luxurious, spacious rooms and apartments
20 minutes on foot from the Lochotín Amphitheater
3 km from the centre of Pilsen, 200 m from public transport stop
booking prices min. two nights - single room: 1.090, - CZK/night, double room: 1.590, - CZK/night
ates include buffet breakfast, Wi-Fi, parking, local taxes and VAT.
For more information and booking form please visit panorama-pm.cz or book your room at 00420 725 109 600.
Dining
There are many within the festival area with a large selection of main meals and booths with classic or fast food. There is a plethora of restaurants, pizzerias, pubs and bars nearby.
The city of Pilsen
Pilsen is one of the most attractive tourist destinations in the Czech Republic! We are glad to announce that we were able to negotiate discounts for all the Metalfest visitors to these interesting places in Pilsen:
10 % | The World famous Pilsner Urquell brewery
Here you can learn about the production of the legendary Pilsner Urquell beer, its history and current modern production. You can also taste the famous Pilsener lager in the historic cellars, tapped directly from the oak barrels. Find the tour times at www.prazdrojvisit.cz


15 % | The Pilsen Beer Story
Follow the footsteps of the Pilsner Urquell brand and discover the story which took place not only in the brewery but throughout the historical centre of Pilsen. Together with the guide, you will explore the most interesting places of Pilsen, which are connected with brewing. The tour takes place on Saturday at 16:00, English only.


25 % | Gambrinus brewery
Visit the Gambrinus brewery and find out how the beer is brewed and how does it taste during the process. The tour also includes beer tapping school and a beer tasting. Find the tour times at www.prazdrojvisit.cz


50 % | The Brewery Museum
A fun and informative exposition in the uniquely preserved 15th-century brewery building, which talks about the beer production, its serving and drinking from the antiquity to the present. You can browse the museum without a guide and you can take it anytime during the opening hours, 10:00-18:00.


The discount will be deduced from the basic price list. To apply for the discount you have to verify yourself with a valid festival ticket. We recommend to buy tickets online: prazdroj.colosseum.eu/prazdroj/list, the discount will be applied at the reception of the visitor routes.