Metalfest in Pilsen is has become a highly respected metal tradition. The fans came to favour the festival not only for its great musical dramaturgy of many genres of metal but also for its unique natural environment in which it takes place. The beautiful amphitheatre in Lochotín, where you can see from any place beautifully on the podium, surrounded by a park and meadows, adjacent to the Pilsen ZOO, all just a short walk from the centre of the West Bohemian metropolis of Pilsen. Three days full of the best metal music and fun, that's Metalfest!
ABOUT FESTIVAL
venue: Lochotin Amphitheater, Pod Vinicemi 9, Pilsen [49.759526, 13.361107]
GUIDELINES FOR FESTIVAL VISITORS
No money refund is possible once the ticket is paid, it is not possible to exchange the ticket on site. Only three-day passes are available.
Organizers take no responsibility for any health / personal belongings damages caused during the festival.
The only method of payment in the festival area will be the cashless system, through a festival bracelet with a chip. By using a cashless chip on your bracelet, you agree to the General Terms and Conditions listed at www.metalfest.cz Recharge your chips. Refund of unused credit is possible after the end of the festival. The condition of the refund is the registration of the chip. The exception is the sale of tickets at the box office, which will only be paid in cash.
Children older than 3 need their own ticket. Children under 12 years of age are allowed into the area only when accompanied by an adult.
It is strictly forbidden to bring drinks, food, plastic bottles, glass bottles, cans, own drinks (even in a returnable cups), as well as any weapons, knives, scissors, flag poles, umbrelas and other things classified by staff as dangerous! The organizer reserves the right to personal security check in a manner permissible by law - at any time! A person refusing to consent to such check will be refused entry or escorted out.
Visitors must respect the instructions of the organizers and the security service! The organizer reserves the right to give instructions in order to maintain a safe and smooth running of the festival, to change the conditions, program and its content with immediate effect. The organizer may order the evacuation of the premises in case of suspicion of a threat to the health of the participants or the property of the organizer, without any compensation for damage or lost profits of the festival participant.
It is strictly forbidden to bring tape recorders or video cameras to the area! Violation of this rule could be classified as a crime!
Taking photos is allowed only on compact cameras without additional lenses.
Organizer and artists reserve the right to film, video and TV recording of concert shows and festival atmosphere. Visitor recorded for the document may also be published without further notice with no financial compensation.
Ticket forgery is illegal and punished according to the law!
Ticket = wristband. With it, you can leave and re-enter the festival area at any anytime. Once you take it off or lose it, you will not be able to re-enter the festival site! All persons without a wristband on hand will be immediately taken out!
No dogs or other animals are allowed in the festival area!
The beer is tapped into reusable cups with eyelet for attachment. Cups are exchanged within the purchase of another beer or could be returned at two buyout marked points. Note - in addition to cups with brewery logo there is also limited edition of Metalfest promotional cups. Those are souvenirs and are not intended for a buy-out. Before you purchase your beer, please decide from which cup you want to enjoy it. Promotional cups will be also available in the festival shop. But for hygiene reasons you don't receive beer into this cups which you bought in the festival shop.
Distribution and placement of any promotional and advertising materials in the festival premises and around without written permission of the organizer is prohibited!
Strict ban on entering the stage or backstage.
Camping is allowed only in on defined and marked area. You can find defined spaces for camping at www.metalfest.cz/en/o-festivalu?area The organizers are not responsible for the stored items in the camp or in the public campsites.
Parking is possible in defined places only while respecting traffic signs and regulations. Carefully study the map with reserved parking places on the website www.metalfest.cz/en/o-festivalu?area. Cars standing on bans and in areas that are not designated for this purpose will be towed by the towing service and their owners will be fined. It is especially important to follow the rules set on streets "Pod Vinicemi" and "Radčická".
Use the sanitary facilities and equipment only provided for this purpose.
Throwing cups with liquid content between visitors or on the stage will be considered a serious violation of festival rules and a person caught in such an act will be expelled from the festival without the possibility of return, as in other offenses against the festival rules.
Strict ban on campfires in the area and in campsites and campgrounds.
It is allowed to bring drinks and food only into the camps and the campsites.
Cashless system
Here we go again with the CASHLESS system. Leave your wallet at home, you will only need a wristband with a chip to pay at the event! Cash and card payments will not be accepted at festival.

Top up your credit online before the event, pay by swiping at the point of sale device and track your spending simply online. If you don't spend it all, you won't lose the rest of your credit. You can apply for a refund free of charge within 14 days after the end of the festival (i.e. by 17.06.2024 at the latest).

For an even better overview, we recommend using the mobile app iOS, Android. Once the chip is loaded with NFC technology, you can clearly see your entire spending and current balance. You can also rate your purchases, receive notifications about individual orders and conveniently return any remaining funds to your bank account after the event.
Why top up your credit online in advance?
Recharge your credit online for free:
Top up your credit online for free and avoid the queue. (For technical reasons, pre-top-up is possible up to 2 days before the start of the festival.)
You don't pay anything extra.
You will receive the chip bracelet directly at the event after submitting the QR code found in your CASHLESS solution provider profile.
Top up credit on the spot:
Top up with cash or card at a designated top-up point.
The activation fee for the first recharge is 30 CZK.
You will receive an information paper with a link and a QR code, which you will keep carefully for checking your balance and refunding the remaining credit.
Download the mobile app for an even better overview of your spending!
Download the mobile app to your phone, load the activated chip and track your spending even more conveniently! Thanks to the app, you can also rate your orders with stars and comments and give us feedback for future editions. In addition, you can easily request the refund of the remaining credit back to your bank account within 14 days after the event.
The app is available in the App Store and Google Play. NFC technology is required on your phone for full functionality of the app.
FAQ
How do I check my credit balance?
After each order, the seller will show you the balance. You can also find out your balance on the mobile app, simply by loading the chip, or in your online receipt by scanning the QR code from the printed information paper you'll receive if you're topping up for the first time at the event.
I have unused credit left, how can I get it back?
The credit balance refund is free of charge and without limitation for accounts in CZK and EUR. You just need to request it with a few clicks via your online receipt from the venue, via the web or using the mobile app. The money is refunded to your bank account within 14 days after the end of the event. We do not refund cash. Don't know what to do? Our video tutorial or CASHLESS support system can help you.

Why can't I pay by card?
- Chip credit can be topped up by card at top-up points. Providing the network infrastructure for card payments is too expensive for retailers at the event. Moreover, we cannot be dependent on the phone signal. Paying by card through a terminal involves internet communication with the bank, and sales would be significantly slowed. With chip payment, we can guarantee that there will be no downtime and that everything will work even without access to the telecommunications network.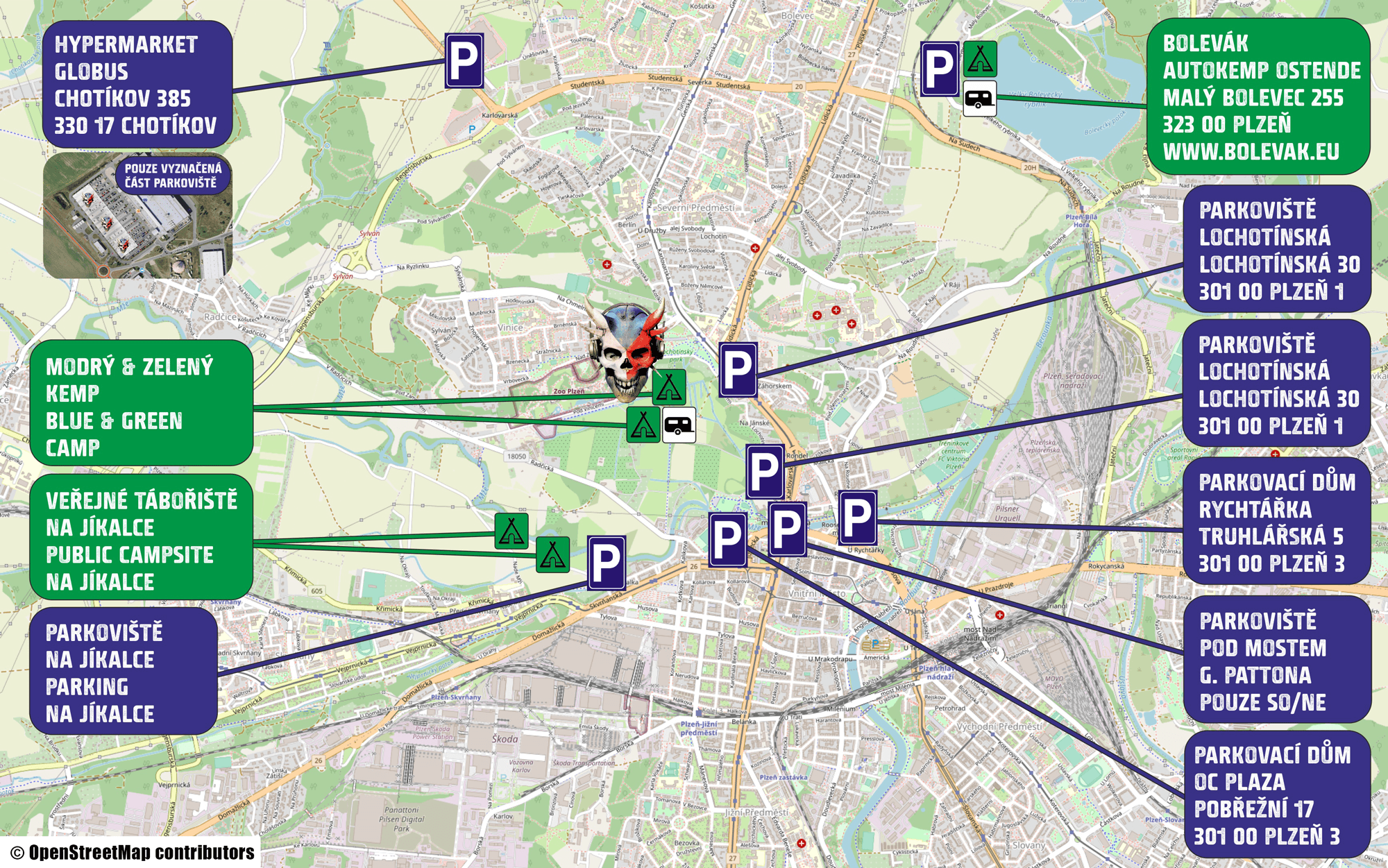 I WILL COME BY CARAVAN OR CAMPER
- 2 sections are reserved for caravans near the site (marked "P CARAVAN" on the map)
- caravans can enter Pod Vinicemi street from 30.05.202 from 12:00

I WILL COME BY CAR AND PITCH MY TENT
- the newly opened parking lot & campsite Na Jíkalce will there for you
- arrival will be possible via a one-way route from Křimická Street (Touškovská and Na Okraji Streets), then exit via Nade Mží Street from 30.05.2024 from 12:00
- parking at Jíkalka is subject to a fee, camping is free in the public camping mode
- the Na Jíkalce parking lot is also reserved for those who have already purchased parking through our website

I WILL COME BY CAR, I WILL SLEEP IN CAR
- sleeping in a car will be possible in the Na Jíkalce parking lot, but it is not possible to build shelters, pergolas, etc. next to the car.
- arrival will be possible via a one-way route from Křimická Street (Touškovská and Na Okraji Streets), then exit via Nade Mží Street from 30.05.2024 from 12:00
- parking at Jíkalka is subject to a fee
I DO NOT HAVE A CAR, I WANT TO PITCH A TENT
- if you arrive by train, bus or on foot, use one of the two campsites near the festival site (Blue Camp & Green Camp)
- Blue and Green campsites will be open from 30.05.2024 from 12:00
- both campsites will be fenced and guarded, and showers and toilets will be available nearby
- these campsites are paid, you can buy a place for your tent
I WILL BE COMMUTING BY CAR, NOT STAYING OVERNIGHT
- if you will be traveling to the festival by car, limited parking spaces will be available in Pod Vinicemi street (longitudinal parking), in the Lochotínská parking lot (at Jysk) or in Na Chmelnici street
FREE PARKING OPTIONS
- in case of full capacity for parking around the festival area, it is possible to use the Rychtářka parking garage (Truhlářská 5), part of the parking lot at OD Globus (Chotíkov 385) or the OC Plaza parking garage (Pobřežní 17)
IMPORTANT NOTICE
- for the smooth running of the entire festival, please respect the traffic signs and the instructions of the organizer
- buy a place for your tent or car in advance
- paid parking in front of the ZOO is only for ZOO visitors
- park cars only in designated areas
- do not pitch your tents outside the reserved campsites

Thank you for following the rules. Your respect and consideration will help us maintain and develop METALFEST in the unique environment of the Amphitheater Lochotín.
Dining
There are many within the festival area with a large selection of main meals and booths with classic or fast food. There is a plethora of restaurants, pizzerias, pubs and bars nearby.
Autocamp Ostende Bolevak
The auto camp is situated in a quiet area right on the shore of the Great Pond in Bolevec, near the amphitheatre.
Autocamp offers:

space for caravans and motorhomes incl. electrical connections
grass areas for camping
parking in the enclosed camp area
morning breakfast bistro
possibility to arrange a hot breakfast in the local restaurant
all-day operation of the restaurant offering hot and cold dishes
multipurpose playground for volleyball, football and other ball games
sitting on several fireplaces
in the case of summer weather and swimming in Bolevák with access to the water from the sandy beach
More information, price list and a rich photo gallery can be found at
http://bolevak.eu/
Hotel Panorama ****
comfortable accommodation in one of the most beautiful locations in Pilsen, near Košutecký lake
luxurious, spacious rooms and apartments
20 minutes on foot from the Lochotín Amphitheater
3 km from the centre of Pilsen, 200 m from public transport stop
ates include buffet breakfast, Wi-Fi, parking, local taxes and VAT.
For more information and booking form please visit panorama-pm.cz or book your room at 00420 725 109 600.
The city of Pilsen
PILSEN is a city that is so beautiful and interesting that it has become one of the most visited in our country. This year, for the twelfth time, in less than a month, at the beginning of June, metal fans from all over the world will gather here to experience 3 days full of metal, which will sound in the local, beautiful amphitheater Lochotín. And especially for METALFEST visitors, this year we again managed to negotiate discounts on the entrance fee to the most interesting places for tourists in PILSEN:
TBA